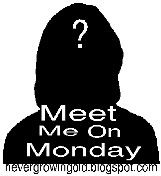 Questions:
1. Have you (only you..not a group) ever won first place in anything?
I won a competition with LML and other soon-to-be married couples 6 years ago. Does that count?
2. Are your toes always painted (sorry guys...this question for girls only)?
Yes, and apparently a lot of my friends don't approve of my color choices. They are MY TOES! Geez.
3. What color eyes do you have?
Brown that turn hazel when the mood arises
4. Look to your left....what do you see?
the wall
5. Soft cookies or crunchy cookies?
soft yummy cookies...mmm
have a lovely hoppy-monday!
love me,
the globetrotting gamine